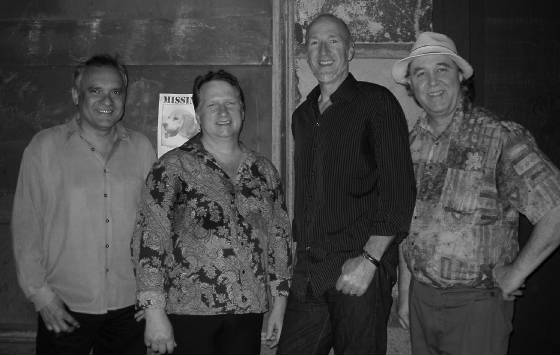 Welcome to our web site!
HARRIS SMOKIN' WITH THE MOJOS

HARRIS GILMORE AND THE MOJOS, (with the incendiary Al Sabourin on lead guitar), burn up the stage with hard driving blues, funky reggae, and fiery jams. But that's not all, oh no!
The band also love to mash-up musical genres in fun and unexpected ways. On Harris' original, autobiographical tune, LONGING FOR YOU LENA, Arabic rhythms are mixed in with blues and reggae.
THE MOJOS could be pounding out a down and dirty blues cover, like "Wang Dang Doodle" and Harris will get a strange look in his eyes and break into a few bars of the 80's hit, "Tainted Love", blended in with Bob Marley's "Get Up Stand Up".
Or how about a Bo Diddley medley interspersed with Tex Ritter's 1940's cowboy tune, "I've Got Spurs That Jingle Jangle Jingle", under a screaming Led Zeppelin guitar solo .
Listen to ALL NIGHT LONG; and you'll hear why HARRIS' original solo harmonica tune sounds like a bluesified version of a trashy romance novel.
If all that is too much try HARRIS' original; BANG BANG BOOGIE, (from Harris' album EVERHIP), a slide guitar boogie that peaks with HARRIS delivering a spoken message, overtop of the groove, about keeping your dreams alive.
Between the four band members, they have seven albums to their credit. The band hopes to have a MoJos album out soon. One song they have penned together, is a humourous dig about their regular crowd - WE'RE GOIN' TO BARTHOLOMEWS.
Harris has opened shows for DOWNCHILD BLUES BAND, ROBBEN FORD, KATIE WEBSTER, and, don't forget...folksinger VALDY?


"HARRIS puts body and soul into his performances." -Amy O'Connor - CoverSTORY

"A harmonica master and soulfoul singer." -Joseph Blake - Victoria TimesColonist
"All the players are fantastic! One of my favourite Victoria bands! - Jim Martens - CFUV's Blues In The Morning show

"Too damn loud!" -Marion Gilmore - HARRIS' mother